Shortage of semiconductors has been reported worldwide and is attributed to the side effects of the coronavirus pandemic, poor weather, and the US government sanctions on Chinese technology companies.
To prevent more intense damage from the shortage, chipmakers in South Korea are reportedly spending huge sums of money to boost the production of chips that can last a decade.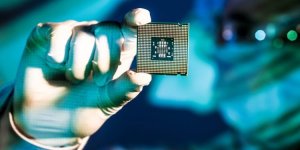 Samsung has reportedly paid tens of billions of dollars to South Korean manufacturers for semiconductors to cover through 2030. Samsung will also be spending another $34 billion on the production of logic chips for powering computers. By 2030, Samsung's target is to be the world leader in logic chips through expanding its foundry business to help fuel entire new industries built on next-generation technologies like AI, 5G, and autonomous driving.
The co-CEO and Vice Chairman of SK Hynix, Park Jung-ho in a statement said the company will devote to stabilize the global semiconductor supply amid the global chip shortage. He however refused to divulge how much it is investing.
World's largest contract chipmaker, Taiwan Semiconductor Manufacturing Company (TSM), in April hinted at plans to invest $100 billion in the production of advanced chips to allay shortage for the next three years and also meet the increasing demand. Intel will also be investing $20 billion in two new US chip-making facilities. This was disclosed a week before TSM revealed its plans.
While this scarcity looms, governments have begun making power moves. Worthy of note is the US. President Joe Biden, seeking $37 billion in funding for legislation to supercharge chip manufacturing in his country and China offering innumerable subsidies to the chip industry in their bid to reduce depending on Western technology.
Source
:
https://www.techcityng.com/computer-chips-scarcity-samsung-sk-hynix-others-invest-huge-sums/
Last edited: