Well, this is my
first post
on crypto trading, the reason being that I've been too busy with other productive tasks that I ignored
this goldmine
(
despite my tech background and the many products I've worked around Crypto
). Well, the story changed after I logged in to my blockchain account one day and realized the positive change in the figure I left there without doing anything on my part. To cut the story short, I will be sharing the
same group link
that actually motivated me to venture into trading cryptocurrencies as one of my 2021 side hustles.
First Things First!​
If you're new to trading cryptocurrencies or even the coin economy in its entirety, then YouTube should be your
best buddy
for the next two to three days learning about blockchain, cryptocurrencies, Binance trading, etc. To outline this better, I'll itemize the things to be done first before joining a crypto signal group.
Learn to trade: Assuming you've watched and read about the basics of cryptocurrencies and crypto trading, the next step is to pick a platform and learn how to trade on it (ensuring that noise and unrealistic, bogus video claims are filtered from the type you learn from). To give you a headstart, clicking on this link will show you some videos on how to trade on Binance.
Open a trading account: this is as important as number one above. For most beginners (and experts alike), I recommend starting with Binance. You can click here to open a Binance trading account or download their mobile app on the Google play store (or iTunes app store) and use 96290052 as your referral code during the signup process.
Verify and Fund your trading account: At this point, you're almost ready to trade and start earning from your Crypto assets. Upload the verification documents and use their P2P Trading section to add funds to your Binance account.
Join a legit Crypto Signal Group: This part is necessary. It helps you filter the many noises around this niche and avoid wasting your investments on unproductive coins that have a very low recovery rate. While at it, follow their guide religiously until you're able to understand the market charts, coins fundamentals, and other technical knowledge necessary to trade coins independently.
Avoid Future and other risky trades for now: This is the point where filtering the noise comes into play. You must learn to avoid bogus claims, risky shitcoins, futures trading, etc. Focus 100% on spot trading with the group's guidance until you're able to make a good sum from your initial investment.
Meet Bullish Beast Signals, a Trusted Group for Getting Crypto Signals Free​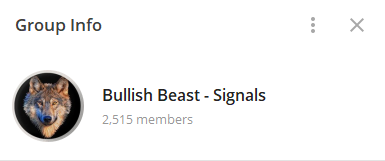 I got to know about this group when
Iftekhar Ahmed
, a developer, and top blogger, recommended it in one of his posts. From that time (early march 2021) until now, I've found nothing but value and awesomeness in this free Telegram group.
How to Join Bullish Beast
Free Crypto Signal Group
? To join, download Telegram (
if you don't have it on your phone or PC already
),
click on this URL
to join and watch out for his
solid Crypto Signals
.
How to Use Bullish Beast Crypto Signals​
You won't be needing this part if you've watched Youtube videos on how to trade on Binance. But for the sake of emphasis, I'll use one of his recent signals to guide you on how to make use of these signals.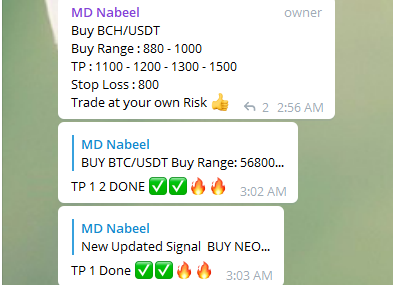 Looking at the image above, this is how to interpret and use this signal:
Buy BCH (Bitcoin Cash) paired with USDT.
Buy it when the market price is between 800 to 1,000.
Take profit at 1100 to 1200 (short term), and take another profit when the market price gets to 1,300 and 1,500 respectively.
Set a stop loss at 800 (depending on how many percentages of your initial capital you're willing to lose if the market dips instead of mooning). Use the stop loss sparingly or set it high, so you don't get to lose much of your trading capital.
Note
: He tracks the progress of his signal and gives updates once it gets to TP 1, 2, 3, etc.
P.S.: Feel free to ask me any Crypto-trading related questions on this thread. You can also share your thoughts, guides, working signal groups, etc.
P.P.S.: The link to watch Binance spot trading videos is
here
, while the link to sign up to Binance is
here
.
Update
: Future, Margin, and advanced Crypto traders can
join this group
as well. In fact, it's one of the best, as long as free Crypto signal call is the topic of discussion.
Last edited by a moderator: