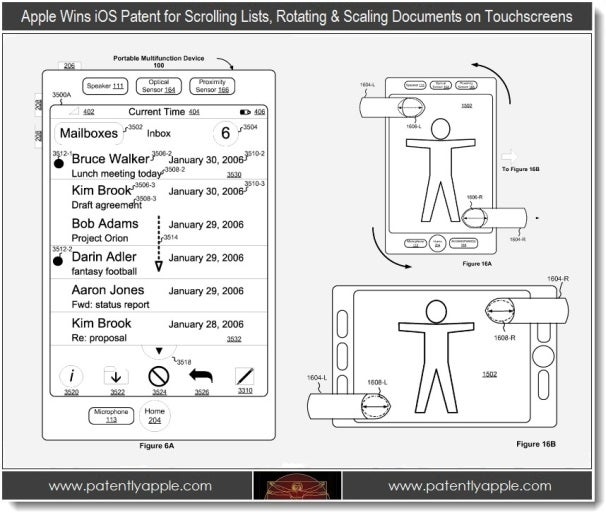 Apple is on a patent tear winning an injunction that bans sales of the Galaxy Tab 10.1 tablet in the United States. Adding to its patent victories the U.S. Patent and Trademark Office has awarded Apple 27 new patents, including a patent for scrolling, rotating, and scaling documents on touch screen devices.
The patent win against Samsung is considered one of Apple's biggest wins yet. Late Tuesday a federal court in California granted Apple a preliminary injunction finding the Galaxy Tab 10.1 to be substantially similar "in the eyes of the ordinary observer" to an Apple patent (D504,889) and "virtually indistinguishable" from Apple's iPad and iPad 2.
The Apple win could be short lived. It's expected that Samsung will appeal the ruling and, to be clear, the court ruling is pending further review.
But one thing can't be disputed, Apple's win of 27 U.S. patents, including one for its famous "pinch to zoom" function, is a big win and one that could lead to more patent litigation.
27 Patents Awarded to Apple
According to the blog Patently Apple, granted patent 8,209,606, which is credited to Bas Ording and filed in 2008, relates to "detecting a movement of an object on the touch screen display." This movement includes iOS's scrolling in the direction of finger movement (the way we're used to scrolling on touch screen devices working today, thanks to Apple), and displaying an area "beyond a terminus of the list if the terminus of the list is reached while scrolling."
Read full news from
http://www.pcworld.com/article/258387/apple_patent_wins_samsung_tablet_blocked_from_us_and_apple_awarded_27_new_patents.html