Alpha Asher Novel Synopsis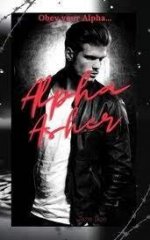 Prologue
I can tell you the exact moment my life began to fall apart. The moment where everything came
tumbling down and I no longer knew what my place was in the world.
The familiar instantly became foreign and I was left with nowhere to go.
It all started when my boyfriend had found his mate.
Tyler and I had been dating since I was sixteen, almost a year of time was spent having him by my side.
Tyler happened to be the Alpha's son, I had grown up with Tyler and spent my childhood training at his side.

When I turned sixteen the feelings of friendship quickly blossomed into romance. Tyler was seventeen,
able to find his mate from he turned nineteen.
I was so gullible back then, hanging on his every word. I was so sure we would be mates, we were
destined after all.
Read complete story to find out more...
Last edited by a moderator: