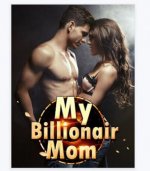 Here is the page to download the complete PDF of
My Billionaire Mom
Chinese Novel translation. Although My Billionaire Mom Chinese Novel Story is older than most of the Novels on this page, it is sweet, interesting, and very engaging for readers of all classes. The novel is
100% completed
: hence, you're aren't going to wait for days to get new chapters. All the chapters and pages are here for your reading pleasure. You can download them for offline reading or read them directly from your phone or PC's browser.
For those interested in knowing more about this novel composition, here are some deep insight/details for your learning:
Chinese name: 我的老妈是土豪
Translated Chinese Name: My mother is a local tyrant Zhang Ce Jiang Yinan
Total Chinese chapters: 913
Total English chapters: 915
Current Status: Fully Completed
My Billionaire Mom Chinese Novel Synopsis​
Chuck was an ordinary student, and he has a lecturer wife of the same university with him.
Because of poverty, his wife looked down on him and kicked him out of home, his classmates also humiliated and fooled him.
But who knows, a phone call from his long-missed mother would change his whole life?
"Mom? You sure you are my mom?" Chuck doubted.
"Of course, my son. And I transferred 5,000,000 dollars to you for your pocket money. Tell me whenever you have any needs."
Then, just like a dream, Chuck became a rich guy.
He went to buy some housing property, purchased a fancy car, had meals in five stars hotels, and enjoyed in top-class consuming places…
The most important thing, not only his wife and classmates, he would stun all the people who used to look down on him!
Last edited: