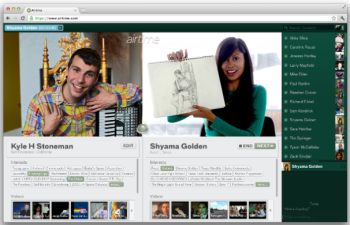 Sean Parker and Shawn Fanning, the founders of music-sharing site Napster, have launched a new browser-based video chat service called Airtime, that allows users to converse with friends and strangers via their Facebook networks.
[Click to enlarge] An Airtime screen session. Source: Ben Baker/Airtime
In some ways, Airtime is similar to Skype, enabling users to engage in one-to-one video chat with people they know. However, Airtime offers a split video-chat window, so that users can watch YouTube clips together while engaging in video chat.
Airtime also connects strangers based on location and shared Facebook interests. When users log on, they are not only presented with a list of friends they might want to talk to, but also a list of topics they might want to talk about, based on their Facebook "likes."
By clicking on a topic, such as the TV show "Desperate Housewives," the user is entered into a video chat with someone else who likes that show. Similar connections can be made on the basis of geographic location.
When the user no longer wants to talk to that person, they can press the Next button to move onto somebody different -- a bit like Chatroulette, the once-popular online speed dating site which lost traction when it was overrun by users exposing their body parts.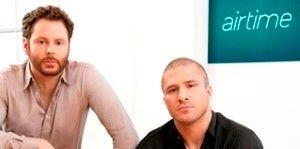 Code:
Sean Parker and Shawn Fanning. Source: Ben Baker / Airtime
"There's something exciting about bringing spontaneity to the internet," said Parker. "All of your interactions online are constrained by the people you already know. That wasn't always the case.
"As we move from a social graph to an interest graph, there are great possibilities for our world. That's what we're trying to tap into with Airtime," he added.
The founders made the point that all users are anonymous until they decide to reveal themselves. However, a report in Forbes states that Airtime will monitor video interactions by taking "snapshots of users periodically to ensure site safety."
Airtime has raised a total of $33 million (?21m) in funding from investors including venture capital firm Andreessen Horowitz, Google's venture arm, actor Ashton Kutcher and pop star Will.i.am.
The new service was launched at an event in New York last week, attended by celebrities including Jim Carrey, Ed Helms, Alicia Keys, Julia Louis-Dreyfus, Joel McHale, Olivia Munn, and Snoop Dogg. However, the event was reportedly riddled with technical glitches, leaving many of the attendees nonplussed.
Facebook already <a href="http://news.techworld.com/applications/3289968/facebook-hits-back-at-google-with-skype-partnership/">partners with Skype </a> for video chat, and was rumoured to be interested in buying the voice-over-IP service, ahead of <a href="http://news.techworld.com/security/3288520/microsoft-could-intercept-and-record-skype-calls-say-privacy-advocates/">Microsoft's acquisition. </a>