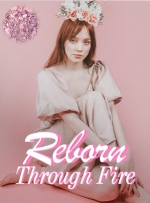 Reborn Through Fire Novel Synopsis
She is… Dead?

​
Kisa Becker was in the women's prison. She held her bulging belly and slowly crawled toward the door.
She had been locked in for three days, and because of one man's order, she had eaten nothing until now.
The floor near the doorway was strewn with breadcrumbs. Kisa stretched out her painful red hand.
She picked up the dirty and cold hard breadcrumbs and put them into her mouth.

Suddenly, the door opened. A voice said, "You have a visitor."
Before Kisa could rejoice, she was roughly dragged out of the cell, cleaned up, and pushed into a visiting room.
Through the bars, she finally saw the man she had loved for ten years.
Kisa held back her tears. "How is Grandma?"

"How could you still have the nerve to ask?"
Gilbert Kooper grabbed her by the neck with a ruthless look on his face as if he was going to kill her.
"Thanks to you, Grandma will never wake up again.
Read the complete episode for more interesting views thankss.....
Last edited: