Every year, like clockwork, millions of people around the world wait anxiously for a man to bring them their heart?s desire. No, not Santa Claus -- the CEO of Apple. The release of a new iPhone sparks a frenzy in both consumers and the media, and 2012 was no different. Preorders for the iPhone 5 topped 2 million in less than 24 hours -- double that of the iPhone 4S -- and customers began lining up at Apple stores as early as a week in advance of the September 21 launch date.
Although the iPhone 5 doesn't represent a complete overhaul of the iconic smartphone -- many of the best new features are part of iOS 6, which is also available for previous versions -- it does contain a few significant changes, both in design and hardware.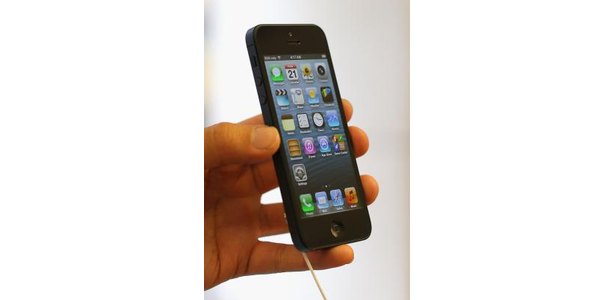 Design
At first glance, the physical design of the iPhone 5 doesn?t appear to be much different from its predecessors: rectangular with rounded corners, the same width, only one-third of an inch taller and available in the usual black and white. Pick it up, though, and the difference is immediately evident. The new phone is noticeably lighter and thinner than the iPhone 4S, although it still feels substantial in your hand. Apple has also broken away from its traditional 3 1/2-inch screen used in prior releases, moving to a taller -- though not wider -- 4-inch, 1,136 x 640-pixel Retina display with 44 percent greater color saturation.
Exterior
The switch from a slick, all-glass exterior to anodized aluminum on the back and sides makes the issue of unsightly fingerprint smudges nearly obsolete, but brings up a new problem: early adopters report that the new material is more easily scratched than the Gorilla Glass of the past two versions.
Purportedly as a concession to the 18 percent thinner phone, Apple replaced the traditional dock connector -- used by iDevices for years, including the razor-thin Nanos -- with their new, proprietary eight-pin digital connector called Lightning. If you have a collection of iPhone accessories already, you?ll need to buy an adapter to use them on the iPhone 5. Unfortunately, the adapter sold by Apple doesn't support the video or iPod-out functions, meaning that some accessories may be unusable or lose access to certain features with the new phone.
Hardware
The iPhone 5 also packs plenty of changes on the inside. The phone uses the new A6 chip, making the phone up to twice as fast as the iPhone 4S and providing better graphics performance for games and apps. The processor isn?t the only thing that got faster, either. The iPhone 5 is compatible with 4G LTE, which supports download speeds of up to 100Mbps. The combination of the new chip and iOS 6 provides better battery life, offering up to eight hours of talk or browsing time and 10 hours of video playback on a single charge, according to Apple.
Camera and Video
The rear-facing iSight camera features essentially the same technical specifications as that of the 4S, both containing an 8-megapixel sensor. The front-facing FaceTime camera ?now centered at the top of the phone ? has been updated from its measly 0.3-megapixel VGA resolution to 1.2 megapixels and is capable of recording high-definition video. The camera app also contains a few new features, notably the ability to take panoramic shots, as well as improved speed thanks to the faster processor. FaceTime fanatics are no longer tethered to Wi-Fi; if your carrier and plan support it, you can now make video calls over a cellular connection.
A Better Siri
Siri was one of the features flaunted when the iPhone 4S debuted, but the voice-activated virtual assistant was received with mixed reviews from critics and sparked lawsuits from users, who felt that Apple had falsely played up how well the service worked. With the release of iOS 6, Apple has promised improvements to the service?s accuracy along with new features like integration with OpenTable and Yelp, the addition of sports and movie information and the ability to open apps with voice commands. Siri also integrates with Apple?s new Maps app -- the replacement for the previously included Google Maps -- to provide turn-by-turn navigation.
iOS 6
With more than 200 new features, iOS 6 represents a substantial update to Apple?s mobile operating system. It?s more social than ever, adding Facebook integration and introducing Photo Stream sharing, which allows you to create a shared folder of your photos with select friends and family. The new Passbook app is designed to hold digital versions of store loyalty cards, gift certificates, tickets and boarding passes that can be scanned directly from your phone, eliminating the need to carry the actual cards or papers with you.
Miscellany
A fully reimagined App Store makes it easier to discover new apps, learn about them and download updates. Web use is enhanced with the introduction of full-screen browsing, iCloud tabs and an offline reading list in Safari. The phone component also underwent major changes. Instead of simply answering or declining calls, new options allow you to send a call to voice mail, send a quick message instead of answering and set a reminder so you don?t forget to call back later.