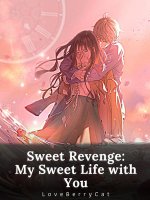 Sweet Revenge: My Sweet Life With You! Novel Synopsis
Back To The Past​
CRACKLE! BOOM!​
The thunder roared loudly and the rain poured heavily, as if crying and resonating with the woman who was lying down on the ground,
slightly trembling, with a pool of blood beneath her.
Gasping and Panting, the woman tried to stop the tears streaming down her cheeks.
She bit her lips and gritted her teeth, as if to stop feeling the coming from her chest.

"Yanna!" Screamed the man who quickly got off the black maybach car.
He ran towards the woman and embraced her tightly.
"…C-Cole…" Breathing was already hard for Yanna, yet with the power of love, she managed to say Cole's name.

"Shhh… Don't speak anymore. I'm here…I'm here…" Cole spoke softly.
Then, he heard a cold voice in front of him.
"I'm also here. Did you forget me?
Ugh, just watching your stupid drama makes me puke rainbows and makes me gouge my eyeballs.
You guys are so cringe!" It was said sarcastically.
Read the complete story to find out more.....
Last edited: